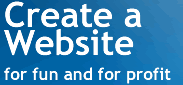 Learn more about...



Website Creation Guidance
Anyone can take a picture, but there're still professional photographers making a great living! Your website is important. It could be vital to the success and growth of your business.
So... you say you have something you're really passionate about and you want to tell the world, or maybe just the folks in town? A website can do that.
Creating a website is like opening a new store or office

There's so much to consider such as:
Business Name

(domain name)


Does it make sense to your customers? How does it look in print, sound when it's spoken on the radio or in a Chamber of Commerce function?
Store Location

(website hosting)


Location. Location. Location. It's important with brick and mortar, it's also important with websites. There are three primary things to consider when choosing a place to host your website. 1) Be sure the place (the hosting servers) is not part of what search engines consider "bad neighborhoods". 2) If natural rankings are extremely important to the success of your website, make sure that you get a unique IP (internet address). 3) Make sure the hosting company can provide at least "three nines" of uptime (99.9%). Get more details on 1, 2 and 3 - read our article on choosing a hosting company.
Floor Plan

(website usability / design)


When they walk in the door, what will the first impression be? What will be the tone? What does it say about your company, your mission, your products and services? Will they be able to find their way? Buy a product? Visit customer service? Check out? Learn about a new service?
Sales, customer service, back office staff

(the copy/words on your site)


The words on your site are its voice. It speaks to your customers. It welcomes, sells, reassures, takes orders, serves, delivers and more. The words are the MOST important element of your website. The flash and design get attention, but the words are what does the conversion!!
Phone System/Mailing address

(email management)


Email is one of the most important lifelines to your business and customers. It's important that you get emails and your customers get your emails. People need to be reassured that you are taking every precaution possible to protect their personal information and you will respect their time by honoring their "do not email" (DNE) / opt-out request and by not sending them emails that are irrelevant.
Clear product packaging

(website coding)


The coding of your website needs to be clean so search engines can "read" your product information and give you the best rankings. Many of the "build it yourself" websites or easy HTML coding programs produce pages that are so bloated with unnecessary coding that your beautiful content is lost, diluted, and you won't have a chance at any kind of rankings.
Yes, you could do it all. But how long will it take? How valuable is your time? Wouldn't you like to focus on what you do best, and we'll do the rest? (ok, that's a little cheesy, but I couldn't resist)
The great thing about a new (or re-launching) of a website is that it can incorporate all the elements necessary to take advantage of natural ranking, landing pages for PPC, and to include conversion optimization.
Our typical process is:
Domain research and determination.
Create Personas - Identifying who your customers are.
Wire frame the site - Wire framing acts like the blueprint of the new store.
Content creation - Writing the information that your customers are looking for.
Site Design - The art of the site. Colors, graphics, shape, etc.
Page Coding - The melding of the copy into the design creating functional pages.
Launch
Search engine marketing - Linking campaigns, PPC, copy tweaking/optimization.
Modification and improvements to reflect things learned as you get to know your customers better from your communications, PPC, and natural traffic patterns.
Optional stuff: blogs, shopping carts, electronic payments, flash, RSS feeds, podcasts, etc.
Ready to get started? Send us an email and we can get you going on the right path to creating a fun and profitable website.