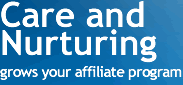 Learn more about...

5 Stars!
"Robert is obviously a seasoned pro who approached the project in an organized manner and accomplished it on time. Highly recommended."

John Schoeph
CyberCucina.com




Grow That Seed of a Program into a Money Tree
Affiliate programs can't run on their own… they need to be nurtured, maintained, and grown. It's not unusual to think "build it and they will come." This couldn't be further from the truth! I can't tell you how many times I've heard "I set up this system and I have hundreds of affiliates generating almost no sales!"
Affiliates have thousands of programs to choose from. In 15 seconds an affiliate can switch whom she promotes. These two facts make affiliate marketing an extremely competitive arena. If you're not available to provide encouragement, coaching, answers to questions, needed content, banners, etc, affiliates will switch to a merchant who'll be responsive to their needs.
Web Affiliate Programs are pay-for-performance marketing. Why shouldn't your manager be compensated like your affiliates? That's why I put my money where my mouth is by basing my fee largely on my performance in managing your affiliates.
When you hire me, you'll get a manager that's a recognized expert in the field of Search Engine Optimization, Pay Per Click management and increasing Sales Conversions. I'll share proven techniques with your affiliates to turn more of their visitors into paying customers.
I've worked both sides of the affiliate marketing equation as an active and highly successful affiliate and as a dynamic affiliate program manager. This puts me in a unique position to know what you and affiliates need to be successful.
Affiliates need:

A manager that is available when they are working on their site (often nights and weekends).
Answers - quick.
Help setting up their banners, links, newsletters, etc.
Advice on how to optimize PPC campaigns.
Guidance on how to market to your customers.
New material to use, articles to publish, specials to promote.

You need a manager who will:

Provide for affiliates' needs (see above).
Actively recruit top performing affiliates.
Promote and build trust.
Be vigilant against fraud and parasites.
Maintain an optimum payout structure and incentives that will naturally attract the best affiliates.
Keep in contact with affiliates.
Write ad copy.
Work with your designers to develop banners and other collateral.
Optimize the performance of all advertising collateral.
Provide a high level of availability during the day and much of the evening to affiliates via phone, skype, email and IM.
You may also need someone to fix, upgrade or set up a system from scratch.

Need a new tracking system?
Let's face it. You have all the power and affiliates are very vulnerable. They do a lot of work to place banners on their site, write reviews of your product, and recommend it to their readers. Then they have to trust you that cookies are being tracked and your system is attributing all their sales to them and not to someone else. In the end, they wait weeks and trust that you'll actually pay them as you promised to.
It always boils down to trust and reliability (a close cousin of trust!). Having a good, reputable affiliate tracking system goes a long way to establish that trust (a reputable manager helps too!). With little other knowledge about you, this is one of the key ways they have to size you up. A system that affiliates recognize will give them comfort with its reliability and assurance that you can't modify it to your favor. A popular system will also have a familiar interface that will save affiliates time because they won't have to learn where things are, how to pull reports, how the links work, etc.
I can set up a turnkey affiliate program that affiliates will love.
I will:
• Assist and guide you in selecting the right software/service or networks for your goals.
• Set competitive payouts that will attract the best affiliates.
• Write all the rules, terms and conditions, and PPC rules.
• Write ad copy.
• Work with your designers to develop banners.
Everything you or your affiliate manager needs to hit the ground running… or should I say hit the ground recruiting!
Need help growing your program? Let's get started! Drop me a line below and we'll set up a no-obligation consultation.